Auto Repair Services
We diagnose and repair all auto makes and models.  We guarantee our work, parts & labor, for as long as you own your car or truck.  Check with us for details.  We honor most extended warranties.  We are also a Texas Official Vehicle Inspection Station.
Air conditioning and climate control repair for car and truck
Brakes – disc, drum, and anti lock systems
Cooling systems, including radiators, hoses, belts, and heating systems
CV joints, axles, universal joints, and differential service
Electrical diagnosis and repair
Engine Mechanical Repairs
Exhaust systems and catalytic converters
General mechanical repair
Oil and filter changes
Problem Solving Steering, suspension, struts and shock absorber repairs
Tire, wheel and battery sales and service
Transmission and clutch repair
Tune ups, fuel injection
Wheel alignments
Scheduled Auto Maintenance Services – The Dealership Alternative
We perform new car scheduled maintenance on all most makes and models. It is recommended by most auto manufacturers to get the scheduled maintenance performed every 15,000 miles. Scheduled maintenance can potentially save you thousands of dollars during the life of your car or truck.
How Can Scheduled Maintenance Save Me Money?
First, scheduled maintenance keeps your car running smooth and efficient. This alone can save you hundreds in gasoline. In addition, during these maintenance sessions, we can detect minor problems that may lead to more costly major repairs down the road if not treated. Two easy ways that scheduled maintenance services actually saves you money.
More Value and Convenience
Since we are authorized to perform these scheduled maintenance services on your vehicle, its convenient as ever to bring your car or truck to Precision Automotive. With our neighborhood repair shop, your vehicle will be in and out sooner than a huge dealership working on hundreds of cars. And it is not in their best interest to spot minor repair problems that can lead to larger, more costly repairs later on when the mileage is over the protected period.
Precision Automotive Services promises that we will always do what is best for you and your car. We will ensure that all our actions will keep you on the road in a safe and efficient automobile.
What Gets Checked During A Maintenance Service?
At Precision Automotive, we are committed to the safety and reliability of your vehicle. Your vehicle is one of your largest investments, so let us help you protect it. Bring your vehicle in for scheduled maintenance services every 15,000 miles.
Brake Drums and Linings
Brake Hoses and Lines
Cooling System
Exhaust System
Power Steering Fluid
Seat Belt Condition & Operation
Tie Rod Ends
Wheel Ends
Windshield Wiper Operation
Brake Drums and Shoes
Brake Pads and Rotors
Driveshafts
Exhaust System Heat Shield
Safety Inspection (lights, horn, etc.)
Spare Tire
Tire Pressure and Wear
Windshield Wiper Solvent
Brake Fluid
Coolant Hose
Engine Coolant Level
Parking Brake System
Safety Warning Lamps
Suspension
Warning Lights and Gauges
Windshield Wiper Blades
Texas State Inspections
Official Texas State Inspection Facility
We are an official Texas State Inspection Facility and an official Texas Emissions Testing Facility. We are an approved facility in the AirCheckTexas program and can diagnose and fix all problems on-site.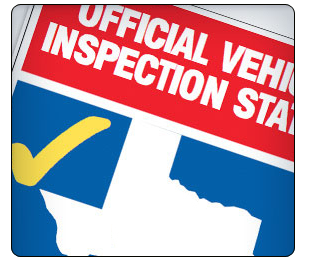 Horn
Windshield Wipers
Mirror
Steering
Seat Belts
Brakes (system) (Parking – beginning with 1960 models)
Tires
Wheel Assembly
Exhaust System
Exhaust Emission System (beginning with 1968 models)
Beam Indicator (beginning with 1948 models)
Tail Lamps (2); (1) if 1959 model or earlier
Stop Lamps (2); (1) if 1959 model or earlier
License Plate Lamp (1)
Rear Red Reflectors (2)
Turn Signal Lamps (beginning with 1960 models)
Head Lamps (2)
Motor, Serial, or Vehicle Identification Number
1988 & newer – inspect for window tinting or coating
Gas caps on vehicles 2-24 model years old.
Check for evidence of Financial Responsibility
Pre-Purchase Car Inspections
Want peace of mind when buying a new or used car or truck. The fact is that even in today's world of "certified" used cars and low mileage vehicles, problems can lurk that will cause you a lot of undue aggravation, lost time from work or family and possible high repair bills.
Precision Automotive offers a low-cost, unbiased assessment of your potential vehicle purchase. Our detailed inspection will cover every major system as well as exterior inspection and performance tests.
We will provide you with a fair price that you should pay for the vehicle based on NADA guidelines and you can use this information as a bargaining chip with the dealer. Get Precision Automotive on your side and let us inspect your vehicle purchase before you buy.
Peace of mind costs only $129.95 and you get a coupon for half that price ($64.98) off any maintenance repairs on the vehicle we inspected or any vehicle owned by you.